I was happy to receive the aida cloths that my MIL bought. I find it hard to find here in the city particularly I am not familiar with the shops here to where it is available. Now that I have the textile, the next step I need is to have a good pattern and buy corresponding threads.
Aida Cloths in three colors, pink, yellow and off white

I haven't seen any DMC threads yet, all I see was Anchor threads so I needed to look online to convert the DMC numbers into equivalent Anchor numbers. If you don't know what I am talking about, I am talking about Cross stitching.
Aida Cloth for only Rs40 a meter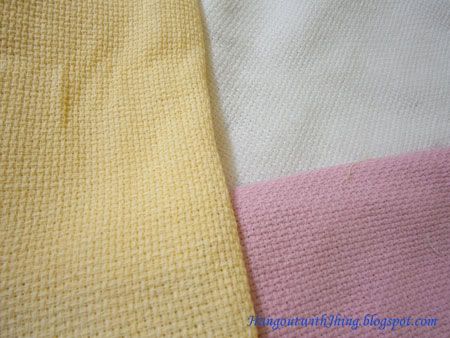 Ever since College, it was one of my favorite hobby. I do sew different designs and patterns and gift it to my friends and family. My mother appreciated most of what I sew and up till now, my work of art was at home and I am missing it so much that I asked hubby if I can sew again and he said no problem.
I just hope I can complete my collection first, from patterns, to threads and needles to begin my work. I am thinking of doing Christmas designs and gift it to my friends. I am also thinking of making book marks and coasters that they can use.