It was my first time to have this type of mobile. It was a gift from hubby because I really wanted something which has a dual sim pack so that I can use my roaming sim and the sim I have here in India. Lava is a local phone produced in India. Well you might say that was new, since most mobiles are made in China or produced there.
My new Lava B8 mobile

Still inside the box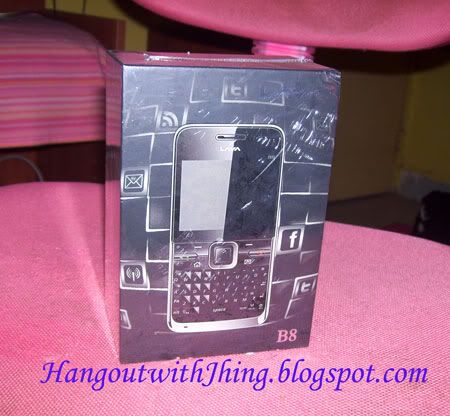 Anyway, Lava B8 is really promising. It has WIFI connection ready, Bluetooth, a pad which is QWERTY type looking like your Black berry, and a sensitive track pad which is easy to navigate. It has FM radio, MP3/MP4 player, torch light, 3.2 mega pixel of camera with flash and a video which is just right for me to use. It has PUSH email which you can configure 10 email accounts on your mobile.
I am not that techy savvy. I am just a regular mobile user who is happy to use technology at its simplest form. For me, I don't need to complicate myself with gadgets and stuffs. Most mobiles offer the same thing but the question is their reliability and durability and they of course differ in prices depending on brand names.
Package from Flipkart, freshly delivered its with bubble wrap on the side

de-boxing Lava B8, I luv it!

Saying to me, hello beautiful!

You may call this article a short review, but it's not paid okay. Just my own personal opinion which I write here so to be honest, it was just timely that I got my new Lava B8 and it does suit my need as a user. The price is also affordable for only Rs 3,300. We ordered it online and it was delivered right on our doorsteps after 2-3 business days.
Lava B8 with its accessories

This is what it looks like being charge using USB

This is how it looks like being charged on a regular charger

So far so good I like the simplicity of it. The games included were just for kids to like. Easy to connect internet and the camera is built not too dandy for some since it will always be average but it's okay for me to use. I'm not so fuzzy about playing music on mobile. The sound wasn't great compared to Nokia music express but I am not after that at all.
As long as I can communicate well with people that I talked to on the phone and send them messages and hook me up on the net that is fine with me. By the way, it comes with USB charger, a usual battery charger, 2 GB micro SD card, hands free set in a box. Hope to use it well so that it will last longer. Thanks honey for gifting me this mobile!