I was really missing pizzas back home where it is soft and fluffy and yummylicious. I don't think that I can compare it to any pizza here to where I am now because their consistency is not the same as well as the flavor. I can eat a pizza here and finish it but my palate would ask me, hey is that a pizza or just bread flavored pizza.
the pizza that I ordered, cheese with keema..good thing no flies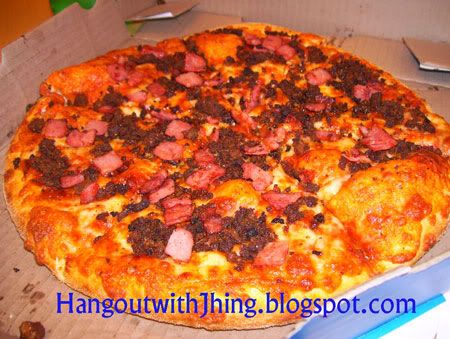 Prices are also expensive but the quality is really not great. What can I do, I am just a consumer who is just honest with what my tongue is saying. This pregnant lady is really craving for a REAL pizza. But anyway as to what I say, supplementary pizzas here in India because it will always be patterned to the taste buds of Indians.
wooohooo, never heard of this policy before

Pardon me for saying or if I may hurt anyone for that statement, but if they happen to travel to other countries and compare it I guess they might say something like I do, not unless their tongue is really born for just one taste.
I have nothing against Dominos, I like it also when I am in my country but this branch that I visited is not that favorable to customers with high respect to cleanliness and sanitation. Their branch might have OTHER visitors too which is really annoying… "FLIES" It was all over every customers table and they don't seem to care whether it goes to the food you're eating or not.
What an alibi.. what about cleaning your place for these flies to go away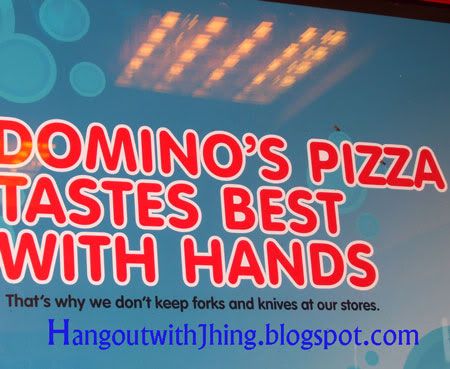 They don't serve your order with any tableware, cutlery (Kubyertos); it's in their alibi policy, hahaha! Well, it's not a restaurant I presumed, it's a side street food that they are offering since they say it is good to eat pizza using only hands. If you have issues eating with your bare hands even after washing, well that will be a problem. But if not, then you can just go easy with this one but for me, it will be two thumbs DOWN.
Flies roaming the table, shooing them isn't the solution

More flies seated.. ruined everything even if the place is AC

I enjoy cutting my big chunky pizza using fork and knife, so you may skip on this one for sure. Hope they have a suggestion box that I can drop my suggestion but who cares anyway, I just passed by and will never go back on that same joint.
Note: What I wrote was my own personal opinion and has nothing to do with downing any company or food or nationality. I am just entitled to my own opinion, hope you also respect that, this is my blog.