I ordered this Lotus Herbal lip gloss from Healthkart.com last December 1,2011. Although the problem that I have encountered was that the phone number I gave was my mobile number which I was using a defective celphone which gets off every time it gets a call even if the unit is still charging.
The box was just fine but the packaging inside wasn't that interesting

Well anyway I emailed them about this but they replied a bit late so my order got so late. I guess in my very first encounter with their website, I felt disappointed already. It was a C.O.D. and shipping was free although I have ordered from other online site that also caters free shipping but the delivery and service was fast and they respond to my mail quick also.
Receipt plus the bubble wrapped lip gloss which is difficult to remove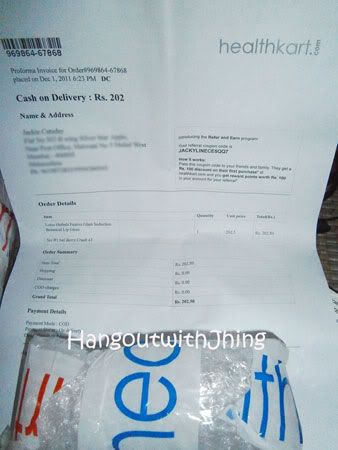 Anyway, I was just happy to receive it today and it was a tinted lip gloss with a very enticing color suited on my skin tone. I don't know if I would still try to order from them but let's see if they offer big discounts this coming holiday.
Lotus Herbal Lip Gloss Botanical Tinted Lip Gloss

This is not a review of the product. I may post my review on my other blog and hopefully I might share it here someday. Have a nice day everyone!