Tienshi is an established company selling Traditional Chinese Medication. We have been members of this great company for years now and we used the products because we know that it works effectively. This is not an advertisement about the company but just my own personal viewpoint.
Last week, we ordered 4 different Tienshi products online. It was our simplest way to get rid of commuting and going in their office which is time consuming because it will take us 2 long hours to travel. Good thing is that they offer online order as long as the purchase is more than two thousand (Rs 2,000) rupees and shipping will also be free of charge.
It took them 3-4 business days just to get here and we paid for it via EBS (Electronic Banking System) although Tienshi India also offers other payment methods such as Credit card, Debit card, cheque, demand draft and much more.
The packaging was not so great, they did not provide any box to make it more presentable although I have nothing against the products because all of them came without anything missing or leaking, in short they are in good condition.
What we ordered was Tiens Chitosan, Tiens Cordyceps, Tiens Anti-dandruff shampoo and Airez Day time Napkin Pad. By the way, this article will never be a review about the items I have said earlier since I will reserve that review on my other blog.
Some kind of packaging

Anything more better than this packaging? wish they can spare me a box for that 4k plus order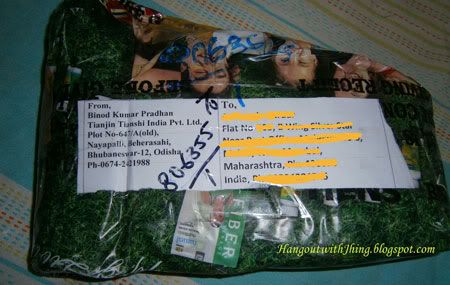 Just hoping that the order we made will automatically add our points for PV and BV since that belongs to hubby's dad but will still credit unto hubby because it was under his leg(team). Anyway happy still about the quality of the product.