Yesterday we went to the nearest local market in our place to look for a maternity dress. Actually my idea was to search for a chudidar or suit since I can just ask the tailor for my size. Although most of the textile in the market was all glittery and shiny, I really needed to skip such since I don't like to feel itchy.
I was looking for any cotton, silk, chiffon or synthetic clothing which will not be that hot to wear. Most of what I have found was too heavy, too thick and full of sequence which I will be uncomfortable to wear.Well the price may still be reasonable but then it's not in the occasion so hubby and I still looked around and found some ready-to-wear dresses that were just perfect.
Red dress with green satin stitched design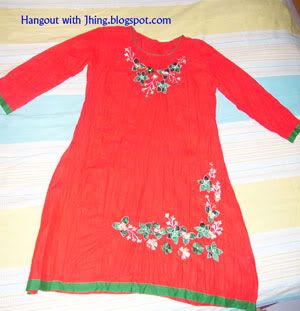 Last week we went to mall to look for the same but to my dismay the prices were so expensive and the quality was not. From maternity pants to tops, it does not even impress me. Probably if I were back home, I'd be looking around Divi or Baclaran and still can find cheaper but good quality dress material but anyway I'm already here so I needed to just select something which is bigger than my regular size.
Red orange dress but looks pinkish in this photo

Floral Chiffon Pants

I'm not after long sleeves but when I saw these clothes, I like the color and the design and that made me buy it. I know that I can still wear these clothes whenever we travel back to Goa. The textile was just cotton although the pants are chiffon and I can pair it with my other blouse or tops. I was really happy for the loot and we were also able to bargain for the price and the vendor gave us Rs50.00 discount. It will always be good to hunt down clothes on local market rather than malls.