It is the most convenient way to travel particularly if it was a far and distant place compared to riding a bus or a train. But you might say, yeah I can see only cloud and landmarks from afar but if you're into nature tripping, you will definitely enjoy a bus ride or a train ride, well it depends on someone's taste, mood and timing.
If we really are in a hurry or if there is no other way to travel but plane, then enjoy it. Just make sure you select the best airline company that serves quality food and hospitality during your flight. I have been travelling for so many years and I have tried at least 5 different international flight carriers and 3 local flight companies. I have seen and compared the qualities of each airlines and I can say that not because it is expensive means it offers the best. Some airline company offers affordable ticket prices and yet the service and quality is really high.
Food served during the flight

We always book our flights online and thanks to the very accommodating sources online; we can compare which ticket is cheaper or which agency offers a promo or discounted rates. Certainly I don't like a very long lay over time to wait for my connecting flight, but I don't like too short time that I feel like I am going to miss my connecting flight. Well there are cheaper tickets which offer a very long lay over time and just see to it that you will get to the gate number in time or rest a lot.
The most traumatic for me is the Hongkong International Airport where it is so huge and you cannot just ask any person that speaks bad English, errr I mean you can't get what they try to say in terms of pointing directions. As much as possible, I do avoid stop overs in HK and prefer other countries if I go from Mumbai-Manila flight or vice versa.
Not that extravagant, but its ENOUGH!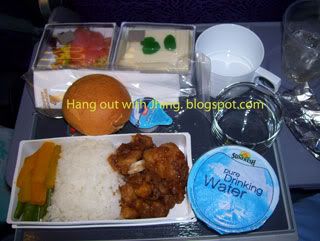 But one thing for sure, Cathay Pacific does give the best quality food and service. Although Singapore Airlines does the same thing and I don't have any complaints with them. I also like their food and their service even if I am on economy class (cheaper). Well, just don't pack a very bulky baggage particularly your hand carry if you don't want hassle. There was this lady who came from Hongkong and she was carrying a very heavy and bulky bag which the flight crew inspected was so heavy and she was asked to limit her baggage. I mean what in the world is she thinking? The compartment looks smaller than her hand carry? Hand carry is supposed to be 5 or less than 5 kilos, not to exceed or else they won't allow you to board the plane. The sad part is, we were all boarding that time and she was barred from the plane, poor lady.
Anyway, about food service some airlines offer not so good food that you wanted to choke. Some offered the most disgusting wine. Anyway, as long as you ask the attendant politely, they will surely give you what you need like coffee, tea, water or any beverage. Some do even ask even if the plane is just going to take off. Well, the word is DECENCY. You are not in a restaurant which is EAT ALL YOU CAN, mind your manners too. Can't help to notice someone seated beside me who are just so PT (Patay Gutom) pardon me, I mean DEAD HUNGRY for more. As if they are in a hurry for a LAST MEAL? Duhh! Even if you said hey I paid for it! Hmmm, makes me think why every now and then they go to the toilet to pee.
Can't help a seat which is bumping your knee, the space is not enough, the aisle is narrow and some planes are really smaller than what you think. Just be sure you check in and select your seat ahead of time to avoid the unexpected. Which side would you like? I know the Window side of course where you can view outside the plane. But if your alone travelling and your uncomfortable to pass by your seatmate while going to the toilet, then the aisle seat is for you. What is your take on Air Travel?